X-HERO will be appearing live with House of Lords
at "La Fornace Pub" in Porto Viro, Italy
on 27th October 2011.

Mirko DeFox and Herman have played Wednesday 27th, July an acoustic set in a special night tribute to Augusto Daolio (Nomadi).
The concert in a fantastic historical place is called "Bastioni Alicorno" in Padova.

Mirko DeFox was a guest at the concert and sing with Steve Saluto (La Famiglia Superstar) and Alex De Rosso (ex Dokken, Solna, Pushking), on July 08 ,2011 in Vicenza.

The X-HERO will perform in concert on 16th July , 2011 in the festival "Bacchiglione Beat" in Padova with Mirko Defox on vocals, David Johansen on drums, Herman on guitar, Moby on guitar and Mauro on bass.
The band will be playing only cover songs

( October 14th 2010) The New Line-up is here :
Mirko DeFox, lead singer - David Johansen, drums -
Paul Blondie Gidoni, bass and keyboards, Herman lead guitar.

( October 13th 2010) Great announce the release on Vinyl and CD
(for the very first time by Heart Of Steel Records and Emmeciesse Music Publishing) of four obscure and really heavy songs, originally out, only on Demotape, during 1993 .
T
he 7 inch vinyl contain two songs "Superstitious hot sea" and "Spacelab desolation", in the Cd version also two songs called "Damnation Underground" and "Feel the fire".
The artwork was designed by famous comics and cartoonist
Massimo Perissinotto.A must for all collectors around the world!!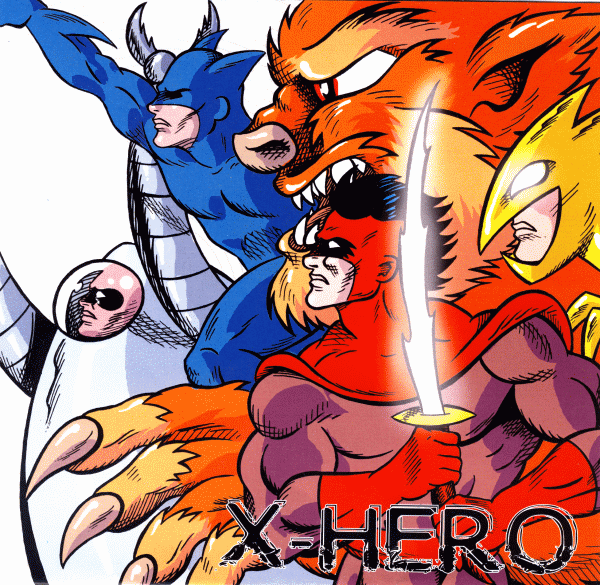 ( January 13th, 2008) Great review by Sandro Buti on METAL MANIAC Magazine!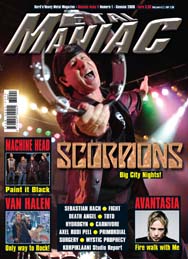 ( September 30th, 2007) Mirko and Herman special guest in a second album of Slovenian metal heroes HEAT. They recorded in a "Xavier" studio in Capodistria.Special thanks to Sandi e Roko!!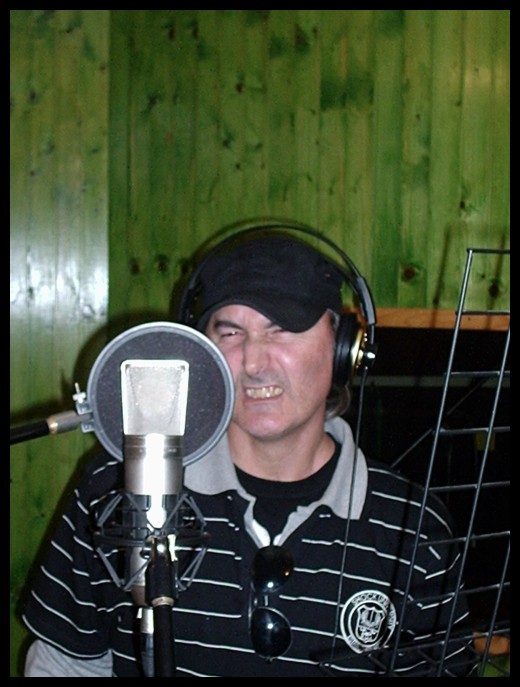 ( September 23th 2007) X-HERO guest on "Road Brothers fest" in Vicenza, Italy.

(10 August 2007) X-HERO headliner on "Lonigo Rock Festival" 09-01-2007 Parco Ippodromo Lonigo (Vicenza) Italy.
Photo Gallery very soon!!!


(23 July 2007) New Up-Erto Festival 2007s photo gallery
...CLICK HERE!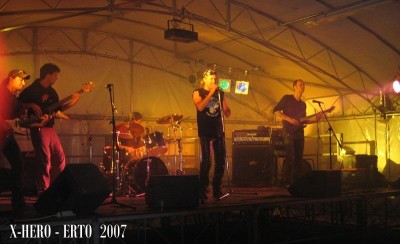 (11 July 2007) ROCK HARD magazine July issue contain great review dedicated to X-Hero's Cd reissue by Barbara Caserta.The same album is definited the Melodic metal masterpiece.
This important magazine is published in italian language and is the greatest in Italy.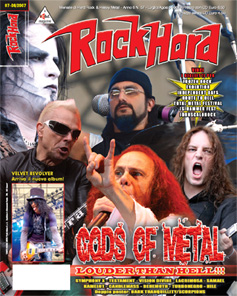 another great review by Rob Ezy Bone from the Melodic Metal Bible magazine " MELODIC ROCK FANZINE"...worldwide magazine published in english.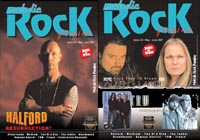 (15 June 2007) New 80's Italian Metal Legion Fest.2007s photo gallery ...CLICK HERE!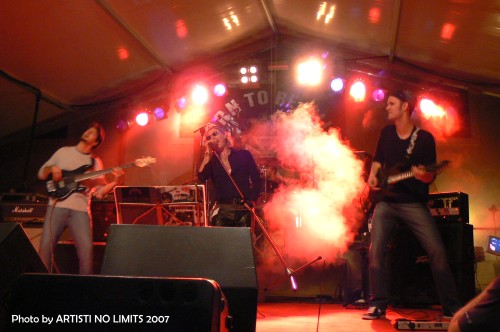 (19 May 2007) The full-length debut-album , originally out during 1987/1988, has been always considered as one of most shining gems in the "New Wave Of Italian Heavy Metal". Having reached unbelievably high-prices on e-bay, finally the album is going to be available on CD format in a fully remastered-version with 6 bonus-tracks + 1 video-track and a FANTASTIC artwork (full-colour 16 pages booklet).
A melodic yet powerful and varied sound that any Melodic Metal fan will have to love!
Track-List: 1. Don't Stop The Game 2. Feeling The Fear 3. In The City Of Love 4. The War Is Up 5. Come Back 6. Come On Baby 7. Walking In The Sunset 8. The Tower Bonus-tracks: 9. Come Back (alternate US version recorded for King Klassik compilation) 10. Watching In Your Eyes (Live) 11. Feel The Fear 12. Watching In Your Eyes 13. Goin' Down 14. Livin' In The Shadow (taken from a 8-tracks Demo,recorded during winter 1985) Enhanced video-track: Don't Stop The Game (video-clip)

Release-date: May, 19th 2007
Record Label: HEART OF STEEL Records
Cat. Number: HOS 0701
Style: '80s Metal re-issue
Country: Italy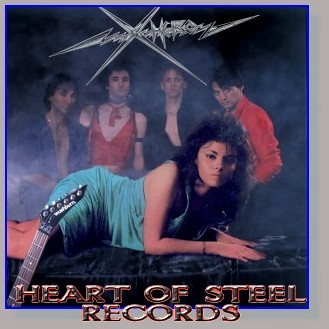 (26 March 2007) X-HERO are constantly planning the tours around ,will be doing festivals in the summer,"80's Italian metal legion 4th edition" - "21th Wild run" and "Up-Erto Festival 2007" confirmed ... click here

(17 January 2007) X-HERO new photo session 2007 click here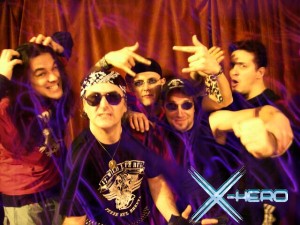 (15 January 2007)The Band work on the first video from its brand new album, for the track "Winter soul".
The video was shot with extraordinaire producer/director Andrea Toniolo of Aton .
Pictures from the shoot very soon.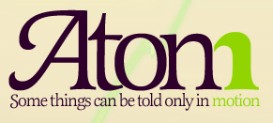 (14 January 2007) X-HERO has uploaded a new pre-mix track "My ship knows", to its MySpace page. This song come off the group's new album,due on middle 2007 via Mirko's personal record label, Invincible.
New pictures of the band in the rehearsal studio writing the material for its new studio album are available ...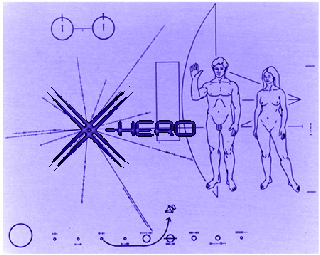 (27 December 2006) X-HERO now on My Space !


(21 December 2006) We have received the japanese magazine Heavy Metal Forces with interview
and review of X-Hero!...GREAT!!!
Happy Christmas
and happy new Year to all rock fans around the world!!!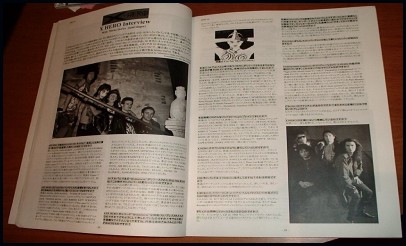 (11 December 2006) Another great gig of our heroes in Bologna,the audiences says "X-Hero play great melodic rock,with clever modulations and amazing vocal range"our special salute to Tarchon Fist e Devastator band.

METAL MANIAC December issue contain great special article dedicated to 80's Italian way of metal and X-Hero's old album reviews by Steve Ricetti.
This important magazine is published in italian language and is the biggest in Italy.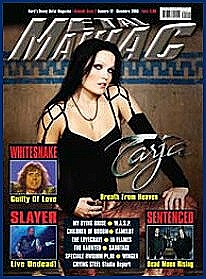 (04 December 2006) Preview picture of great concert in Vicenza at Wild Night Hawks with XIPE!
click here! photo gallery very soon!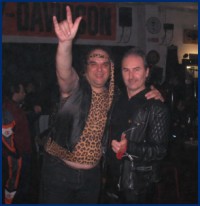 (30 November 2006) Latest interview with Mirko DeFox about HEAVY METAL FORCES JAPAN December issue available now!.The magazine is published several times each year in Japan and is available in only Japanese language.Very special thanks to Walter and Shun Ajiki .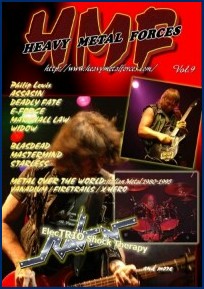 (29 November 2006) X-HEROs upcoming gigs,Saturday,December 09 in Bologna,Lowenhof Pub,free entry with RAIN 1980 and more...click here

(08 November 2006) X-HEROs fans from Asia ,very beautiful girls,many kisses to Aika,Tsukiko,Kyoko,Ai and Manami...The Heroes love you!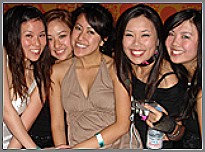 (30 October 2006) A New Exclusive Interview with Mirko DeFox Galliazzo on hardnheavy.org.
Mirko "Cosmo Saint" has been interviewed by Beppe Diana for HardnHeavy.org "The Ultimate Online italian Hard and Heavy Music And More web-zine". Mirko talks about from his days with Axe Hero to his current tenure as the frontman of new X-HERO.
For more information:click here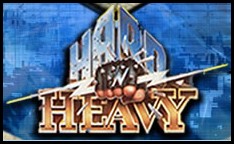 (21 October 2006) We're glad to announce that X-HERO
will be as guest at "Collezionando" Rare records,comics and toys,the national-international happening now at its 4th date.


(18 October 2006) Pic to joke of our bass player Ivano on a Hometown journal "Il Vicenza"...he can play with the foot too...a very scoop!!...
.:last updates site: add pics of all demotapes cover
in a memorabilia section click here!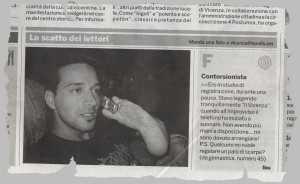 (15 October 2006) To celebrate the 4th year of Artisti No Limits Association X-HERO will play a "special private party show" at "Wild Night Hawks" in hometown Vicenza,
on November 03. The band is preparing an extra set, mainly
built around the new songs, but also including some old classic covers that haven't been played live.Special guest band in our party is top secret but it's a great Hard rock band from Sweden...up coming shows :click here

(21 September 2006) X-HERO announced a special Christmas show on December 15 at "Lord Byron pub" in Lonigo (Vicenza). The first set will be composed of the band's entire new album, while the second set will feature some classic covers.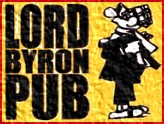 .:Chinese Rock magazine XMUSICK MAGAZINE (20.000 copies printed) ask an interview to Mirko DeFox and will come published in November..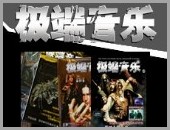 (17 September 2006) Full lenght new song "Fallen Angel" live version for free download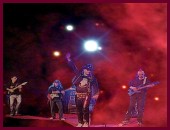 X-HERO begins recording "NEW ALBUM"!
X-Hero's musicians enter the studio to begin recording their come back album in this moment without title.
We have prepared 14 songs. Most of them are mixture of Hard Rock with Fusion and Funky groove. As usual for X-Hero, this record will be very hard to classify, but I am sure, that it will be the most powerful and the best album in the history of the band – explains Paris and Herman.
Musicians spend time in "Vision recording Studio" in Torri di Quartesolo (Vicenza) Italy, Paris lead guitar and sound engineer guaranteed, that we will sound like we want. We work with professional, who knows what to do. We are looking forward to the end of this session and we are sure, that sound will surprise everybody .
Adds Mirko DeFox and Paris as a special gift to the fans, decided to include in the new album tracklisting an exclusive remake of X-HERO's first classic "Don't stop the game", originally released on the band's debut album in 1987.
Executive production by me and Paris.Lyric
s
were written by me.
Album will be ready in the middle of November, but shall be released in 2007.
We have many new ideas and we have never worked so hard like now !
You can see the new photo gallery here!
– Mirko DeFox.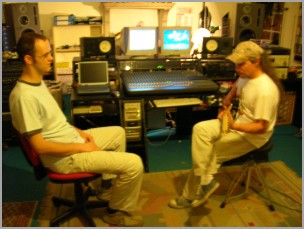 (NEWS 20 August 2006) last updates site:
add pics in a section of Photo gallery
click here!
+ add Mp3 audio clip in a memorabilia section click here!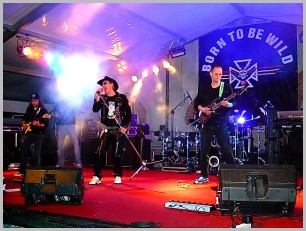 (NEWS 15 August 2006) Japanese magazine HEAVY METAL FORCES has sent an interview to Mirko and will come published in September...
+ It's on line the site dedicated to the AXE HERO reunion , can be seen the videoclip of the concert of june to the "80s Italian Metal Legion"festival... www.axehero.com
+ Davide Pangrazzi finished recording the drum's tracks; see pictures
...HERE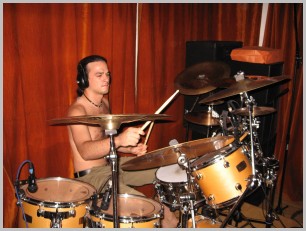 (NEWS 31 July 2006)
X-HERO will be in studio (Vision recording studios in Vicenza) august and September to record the new album. 13 new songs for our "kickin' ass" comeback!
...stay tuned amigos!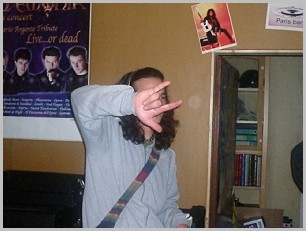 (NEWS July 2006) SUPER Auction for "X-Hero"
original used Cd on E-Bay in 15-07-2006 from Brasilian e-seller...
end auction 264,22 euro (334 dollars) !!
...crazy rockers! we love you!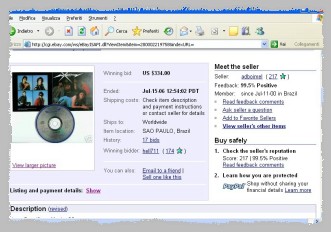 (NEWS May 2006) After a great concerts in Italy and in Slovenja (ex Yugoslavja) with Dark Ages,Heat and Bud Tribe...you can see the foto gallery...here in Slovenja ,and here in Bologna...

X-HERO "SUPER ROCK"Tour 2006:

Saturday Evening !! - 27 MAY "T.N.T." Belvedere di Tezze sul Brenta (Vicenza) + more

Event management: Ass.Artisti No Limits http://artistinolimits.nlz.it

+ Friday 02 June "80's Italian Metal Legion Attack" AXE HERO + GUNFIRE + SWORDS + XIPE + More,Grancona(Vi)
+ Saturday 03 June "Castle bikers meeting" Grancona (Vicenza) + MRPIG + WILDESTIER
+ Saturday 24 June "Biker Fest" in Maribor (SLOVENIA)

Event management: Ass.Artisti No Limits http://artistinolimits.nlz.it



DEMOING OF NEW STUFF

Starting August we plan to enter in the studio for recording our new CD featuring tracks written lately. We like to define our sound as "Super Rock" owing to the facts we play a strong mixing of Hard Rock and Fusion with heavy hints of funk. In a short word, force, energy and technical skills cooperate to create an unique sound!. The recording-sessions will take place at Vision Studios.


(NEWS January 2006) The band announce problems for the reissue of debut Cd ...stay tune ! ...the original Cd "X-Hero"sold in E-Bay to 109 euros click here ...
-Another great live gigs of X-Hero with other cult metal bands like Swords and Xipe in Venice and Brendola (Vicenza) all sold out! you can see the photo gallery HERE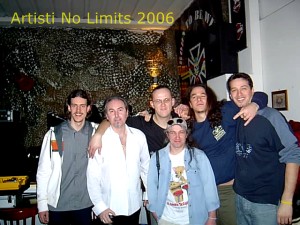 (NEWS October 2005) great success for our heroes in the second edition of "80s Italian metal legion festival" see PHOTO PREVIEW

(June,2005) live gig confirmed in a "bikers fest" 02 July in Gazzuolo (Mantova) Italy with other cult metal heroes Dark Ages.

(May,2005)The special rewiew of the "X Hero" band in a great Encyclopaedia Metallum site ...click here
and in a japanese fan site 80s Kusare Metal ...click here

(January.2005) The album "X-Hero" on vinyl and on Cd are a collector s items which brings its a seller about 200 Us dollars and now we will re-issuing on Cd in 2005.Mirko DeFox announce it will be digitally remastered with a bonus tracks and new artwork (16 color pages booklet)..other news very soon !

(November 04) very great other reviews and live report ,pubblished in a magazines and web-zines ...click here

(august 23 .2004) it's on line the new july 22's photo gallery in Domegliara(Vr) with X-HERO and friends (The Black,Spitfire...) you see here

(july 29.2004)Great success for the X-HERO live show in the 80'S ITALIAN METAL LEGION ATTACK FESTIVAL ,important back to the glory days in open air "Valpolicella metal fest" all photos in the gallery you see here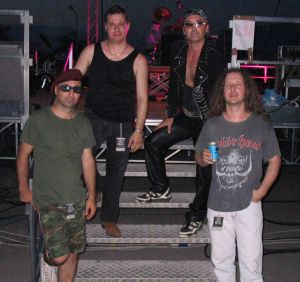 (july 30.2004) it's on line the official site of the "80'S ITALIAN METAL LEGION ATTACK FESTIVAL" all bands,news,photo gallery ,mp3...italianmetal.nlz.it

(june 2004) The new bass player of the X HERO is Villy Gardellin ,good vicenza's musician , great live experience with other local bands ,he will play in Domegliara at july 22 in the open air " 80's Italian Metal Legion Attack"

(Giugno 2004) the official bill of the " 80's Italian Metal Legion Attack" festival in Domegliara (Verona) with the leggendary bands of 80's italian way of metal ,do you remember ? Dark Quarterer,Spitfire,Gunfire,Exile,Crying Steel,Dark Ages and guests...!!!

(May 2004) The special rewiew of the "X Hero" album in many collectors site in the German metalpage and in the enciclopedic site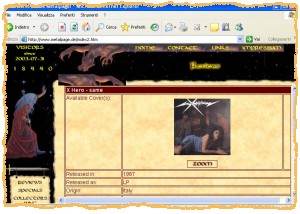 Rockdetector ...ah!! the value for collectors of this lp is 150 euro ...

(April 2004) Mirko and his wife Roberta were invited to the official presentation of the new Whiteskull 's album "The XIII Skull" , Saturday together to friends and with good music, an expensive greeting and compliments to Toni and Alex for the excelent welcome and to Sandro of Metal Hammer for the friendship.

(April 2004) six remastered old songs than Mirko put on Cd master of which three absolutely unpublished and three itself on the debut album with different arrangiaments, lyrics and titles.