PAYMENT
Our Philosophy:The quality and punctuality are priority :to achieve collectors satisfaction,the quality of our services must be better than that of our competitors.Do it right the first time,this is the way for the save time,effort and money.
all items on the #List are "second hand" but checked carefully, rated and guaranteed.All prices stated in EURO (€). 1 € . Payment in Euro
>>How to order :First place an order, and after we check our stock, we will send you an e-mail with a confirmation of the order, the total price, and the address of our office.
Please write the following information in your e-mail:
-Full name
-e-mail address
-Home address, phone number
-Name of product(s) you wish to order
>>also we prepare very strong e secure packing.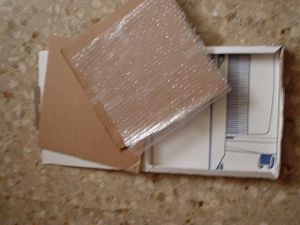 PAYMENT:
ITALIA:
prepayment to Paypal,Postepay and other
EUROPE and REST OF THE WORLD:
ONLY Paypal
IMPORTANT: We don't accept checks
>>THE MINUTE WE RECEIVE PAYMENT. YOUR ORDER WILL GO OUT WITHIN THREE DAYS.
ONLY FOR ITALY COUNTRY
POSTA PAY :
Si complila un modulo presso un qualsiasi Ufficio Postale, SCRIVERE il codice della nostra carta Postepay (richiedi qui), la ricarica costa solo 1 euro.
La ricarica è immediata e possiamo monitorarla attraverso il sito delle Poste, quindi spedire quanto prima, contro i 3/4 giorni di media che impiegherebbe per arrivare l'accredito del vaglia/bonifico bancario, quindi ricarica istantanea e transazione/spedizione veloce. Ripeto la ricarica è semplice, si compila un modulo come quello del vaglia e costa solo 1 EURO!!!
Ricarica su carta PostePAY
Il vantaggio nell'utilizzare questo metodo di pagamento sta nel fatto che la transazione avviene
istantaneamente;
il vantaggio per chi deve pagare sta innanzitutto nel fatto che costa solamente 1 Euro
di commissioni! (qualunque sia la cifra da inviare)
il vantaggio per noi sta nel fatto che possiamo verificare da subito (5-10 minuti)
l'avvenuto pagamento e quindi spedire la merce nel piu breve tempo possibile.

Una ricarica su scheda PostePAY può essere effettuata in un qualsiasi ufficio postale e costa solo 1 Euro.
Per maggiori informazioni su carta PostePAY visita il sito di Poste Italiane .