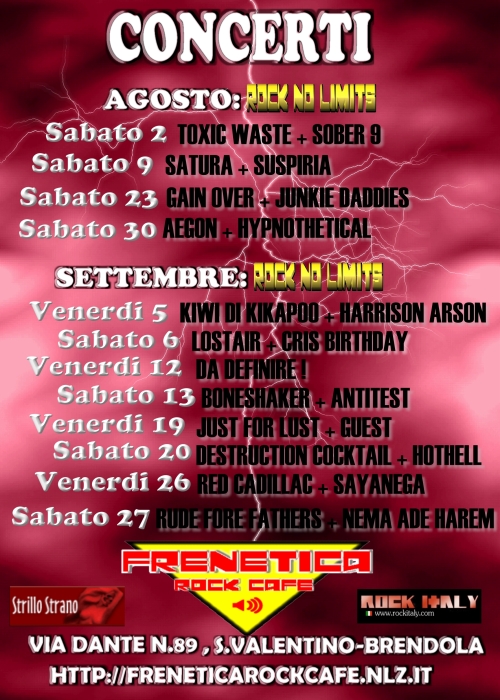 -SAB.2 AGOSTO

TOXIC WASTE
-SAB.9 AGOSTO

SATURA - SUSPIRIA
-SAB.23 AGOSTO

GAIN OVER - JUNKIE DADDIES
-SAB.30 AGOSTO

AEGON - HYPNOTHETICALL




































-VEN.5 SETTEMBRE

KIWI DI KIKAPOO HARRISON ARSON
-SAB.6 SETTEMBRE

LOSTAIR - CHRIS BIRTHDAY
-VEN.12 SETTEMBRE

PARTYING WAYS - Guest
-SAB.13 SETTEMBRE

BONESHAKER - ANTITEST
-VEN.19 SETTEMBRE

BOMBSHELLS- DANGER
-SAB.20 SETTEMBRE

DESTRUCTION COCKTAIL - HOTHELL
-VEN.26 SETTEMBRE

RED CADILLAC - SAJANEGA
-SAB.27 SETTEMBRE

RUDE FOREFATHERS - NEMA ADE HAREM





































VEN.3 OTTOBRE

SHOUT - I FIGLI DEL BENESSERE
SAB.4 OTTOBRE

ALCSTONES - OBSCURE STEEL
VEN.10 OTTOBRE

ELISEUM - O.P.P.O.I.S.E.R.
SAB.11 OTTOBRE

GRAMEGNA - INHALE YOUR HATE
VEN.17 OTTOBRE

THE RAIOT - SKAMARCI
SAB.18 OTTOBRE

RAISING FEAR - SEVEN DARK EYES
VEN.24 OTTOBRE

VEHEMENT - I WAS HERE
SAB.25 OTTOBRE

SEEDS ACID PSYCHO - GOODS RIGHT HAND
VEN.31 OTTOBRE

PLANET BHIMA - CARDIAC
SAB.1 NOVEMBRE
DOWNLOAD SYSTEM (system of a down tribute)
+DINAMIKE DOMINANTI (indie rock da Valdagno-Vicenza)
VEN.7 NOVEMBRE
RATZMATAZ (hard rock da Verona)-
+GUEST
SAB.8 NOVEMBRE
ONATEM (metal da Treviso)-
TRACE OF CORE (melodic death metal da Vicenza)
VEN.14 NOVEMBRE
COLD FIRE (rock da Padova)-
FAR GLOW (rock da Verona)
SAB.15 NOVEMBRE
ISOLATION OF SECRETS (prog metal da Verona)-
CRONOSISMA (prog rock da Vicenza)
VEN.21 NOVEMBRE
LOOSE MANIACS (rock da Verona)-
WHY NOT LOSER (pop punk da Treviso)
SAB.22 NOVEMBRE
MUD ANGEL (alternative rock da Verona)-
HYDROPHONIC (rock pop da Vicenza)
STEREOTIPE (Rock da Vicenza) gruppo femminile
VEN.28 NOVEMBRE
ARTISTI NO LIMITS DOPO-COUNTDOWN 2008
SAB.29 NOVEMBRE
OVERTURES (metal rock da Gorizia)-
AMNIOTICA (rock alternative da Padova
INGRESSO ALLE SERATE LIBERO!!
http://freneticarockcafe.nlz.it







































EVENTI old con foto Gallery :
Location : WILD NIGHT HAWK Music Club - Brendola (Vicenza)
VENERDI 16 MARZO 2007
/ BAND :
-MADMIND (Rock covers)
________________________________________
VENERDI 02 MARZO 2007
/ BAND :
-LE BESTIE DEL QUARTIERE (Funk Rock)
________________________________________
VENERDI 9 FEBBRAIO 2007
/ BAND :
-WILD CHILD (Scorpions tribute)
________________________________________
VENERDI 2 FEBBRAIO 2007
/ BAND :
-DIONISO
________________________________________
/DATA : VENERDI 05 GENNAIO 2007
/ BAND :
-J & B (BonJovi tribute)
________________________________________
VENERDI 20 GENNAIO 2006
/ BANDS :
- HESPERIA

(vedi foto gallery)
- JAM ROCK

(vedi foto gallery)
________________________________________
VENERDI 07 OTTOBRE 2005
/ BANDS :
-ARGAIV

(vedi foto gallery)
-DARORKEN

(vedi foto gallery)
________________________________________
VENERDI 21 OTTOBRE 2005
/ BANDS :
-ZERO 1

(vedi foto gallery)
-RETROVERSE

(vedi foto gallery)
________________________________________
VENERDI 18 NOVEMBRE 2005
/ BANDS :
-BARRA1

(vedi foto gallery)
-CRISALIDE

(vedi foto gallery)
+ MY REASON

(vedi foto gallery)
________________________________________
VENERDI 02 DICEMBRE 2005
-DARK AGES
-GORO
________________________________________