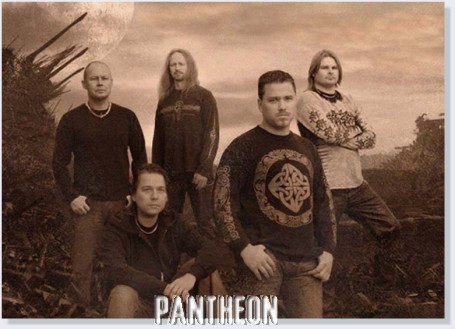 PANTHEON :"Empire of madness"
Release-date: May, 19th 2007
Record Label: HEART OF STEEL Records
Cat. Number: HOS 0702
Style: Neo-Classic Melodic Power Metal
Country: Sweden

Track-List:
1. Intro (Chapter One) 2. Empire Of Madness
3. Battle Pride 4. Into The Void
5. Another World 6. Follow The Sign
7. FireHeart 8. Life Or Death
9. Crystal Ball
10. Chain Of PainBonus-track:
11. Breaking Up Again (ACCEPT cover)

Fact/Sales-Points:
- AMAZING debut-album in the vein of Yngwie Malmsteen's Rising Force, Sonata Arctica,
Stratovarius & Scorpions!PANTHEON's sound is all about catchy melodies, a virtuoso guitar-playing
and a fantastic singer (with a vocal-style really close to SCORPIONS Klaus Meine!)...
definetely a "winner"!
GREAT production & AWESOME artwork made by appreciated designer Tomas Holmstrand
(At Vance, Damned Nation, Dyonisus, etc.)
- An album for all who love Melodic Metal at its best!!!
sito web : Pantheon
rewiew PANTHEON
metal-integral (FRA)