KILLER KLOWNS - " ROLLERCOASTER RIDE "
Digital Release-date: March 2012
Record Label: HEART OF STEEL Records
Cat. Number: HOS 1204
Style: Hard Rock, Sleaszy, Street Metal
Country: Brazil
Fact/Sales-Points:
- AMAZING album in vein of Skid Row, L.A.Guns, Poison, Kiss style!

DEFOX RECORDS and HEART OF STEEL RECORDS welcomes KILLER KLOWNS to the label!
This Brazilian four piece emerges on the scene with a nice slab of traditional Hard Rock flavored glam street,with catchy songs!
The band made several outstanding performances, among them the opening to Dr. Sin in Uberlāndia, Lizard festival in Cuiabį, the festival Jambol in Uberlāndia, Arraial From Rock in France and the opening to the Virgins in Uberlāndia.
Killer Klowns participated in a collection of Hard Rock music in Minas Gerais with "Everytime", with most other very strong bands and released their first EP in the first half of 2010 which featured five songs.
The new album called "Rollecoaster ride" contains 11 songs and will publish in 15th March 2012 in every webstores, like Itunes, Amazon, Spotify, Emusic, Deezer and many more.
Band members:
William - vocal
Teets - guitar, b.vocal
PC - bass, b.vocal
Baby - drums, b.vocal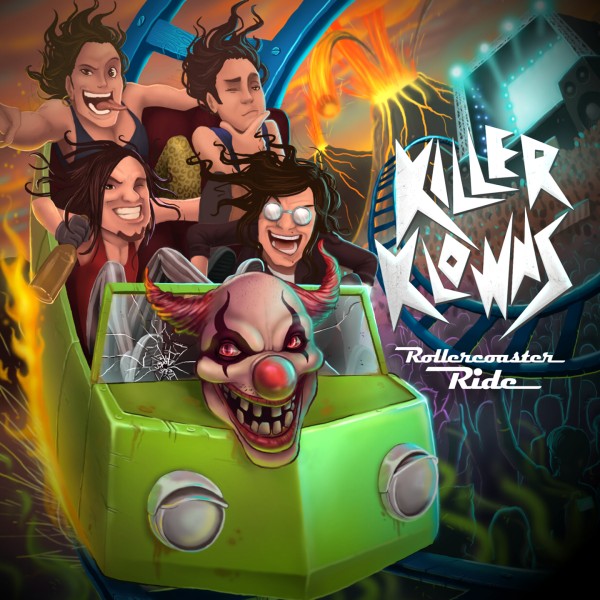 Track list:
1. Until the end
2. Rollecoaster ride
3. Everytime
4. Addicted to her
5. Years gone by
6. Wild place
7. You can't win it all
8. Save your tears
9. Southern flight
10. Love burns
11. Don't take my heart