ALEX DE ROSSO - "Lions & Lambs"
Release-date: January 2013
Digital Release-date: January 2013
Record Label: HEART OF STEEL Records
Cat. Number:
Style: Melodic Classic Hard Rock
Country: Italy/Usa

Fact/Sales-Points:

DEFOX RECORDS, HEART OF STEEL RECORDS are excited to annunce the Record deal
with an guitar god ALEX DE ROSSO.
The fourth solo release is entitled "Lions & Lambs", contains 10 songs and will be available in the best music stores and in every Digital music store and scheduled for January 2013.
AMAZING album in vein of Melodic Hard Rock, Toto, Dokken, Whitesnake style with
modern and powerful sound!
In the album there are some important special guests: Don Dokken (Dokken), Reb Beach (Winger, Dokken, Whitesnake), George Lynch (Lynch Mob, Dokken), Timothy Drury (Whitesnake, the Eagles), Doug Aldrich (Whitesnake), Steve Lukather (Toto)

Alex De Rosso's passion for rock guitar began in 1982 in Padova, Italy.
In 1986, after some live and recording experiences on the local scene, Alex joined Dark Lord, a top Italian heavy rock band with international recognition, bringing a new creative impulse to their 1987 album "It's nigh'time"(Tonau Records, Austria). Dark Lord opened for major bands such as The Cult and Saxon. In the same year it was also featured on a cd compilation of the best contemporary european bands "Best heavy metal from Europe"(Third Ear Music, U.S.A. & Mesak International, Sweden).

In 1988 Alex left Dark Lord and joined Serena R.B., a top Italian underground band, gaining tremendous exposure and experience as a live act, playing concerts, festivals, and clubs for about 4 years. After that, while collaborating with some rock, blues, and pop artists and bands and teaching in music schools, he developed the idea for a solo project.
In 1995 Alex entered the international scene when Alfa Brunette released in Japan "Alex De Rosso", his self titled cd, and Pick Up Records released it in Europe. The album, written, arranged and produced by Alex, is mostly instrumental and contains two songs with David Reece (Bangalore Choir, Accept) on lead vocals.

The reviews were great everywhere, and in the same year "Music Connection" rated Alex's demo as one of the best 10 demos of the year, the best in instrumental rock.
At the same time Alex signed endorsement deals with ESP guitars, Seymour Duncan pickups, VHT amplification, and De Salvo strings, playing in music conventions and fairs like the Namm Show in Los Angeles, the Frankfurt Musikmesse in Germany, and the Interexpomusic & the Disma Music Show in Italy.

In 1997 Alex started to record his second album "Ossimoro". This album is total a expression of his artistic guitar style, where he is author of music and lyrics, producer, back up vocalist, and of course guitarist. The cd was released in Italy on Pick Up Records in 1998, in the U.S.A. on Quantum Records in 1999, and later in Europe on Rokarola/Music Avenue.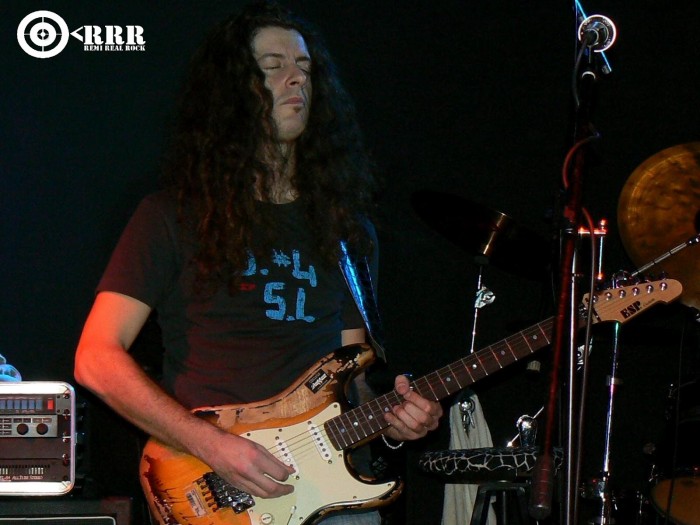 2002 was an eventful year - as well as the release of his third album "the thin line between black and white", Alex was asked by Don Dokken to take over guitar duties when John Norum (Europe) left Dokken's European tour in June.
When Dokken took part in the Metal Edge Rockfest along with Ratt, Firehouse, L.A. Guns and Warrant in the summer of 2002, Alex was called on again to be part of the line-up, and he was back on the team for the 'Mmm...Nice Package' tour which began in January 2003, when the line-up was Dokken, Whitesnake and The Scorpions.

In the middle of all this, Alex recorded as lead guitar player the album "Vertigo" featuring Joseph Williams (TOTO) on lead vocals, and for the album "Perfect World" with Kelly Hansen (Hurricane, Foreigner) on vocals.
Back in Italy, after the Dokken days, in early 2004 Alex started to work on some productions @ the cube, his own recording studio.
One of them was "Shadows Fade", featuring Kevin Chalfant (The Storm) on vocals.
But in the meantime Alex started a new great hard rock band with a great vocalist.

so Headrush will be the name of the band, and Roberto Tiranti (Labirynth) will be the singer.
After months of writing and recordings the first and self titled album of Headrush is ready, and it will be released the 21st of March 2005 in Europe by Frontiers Records, and by King Records in Japan.

2008 is the perfect year for the release of King of Balance "A rockwalk through the TOTO years", a tribute to one of the greates rock bands ever and one of alex's favourite, TOTO.
The album is produced by Alex, and many friends are involved in the project: Timothy Drury (Whitesnake, the Eagles), Stef Burns (Huey Lewis, Y&T, Alice Cooper, Vasco Rossi), Roberto Tiranti (Labyrinth), Michele Luppi (Killing Touch), and many others.

Alex played in other good releases, Faithsedge and Pushking, he is guest with celebrities as Alice Cooper, Paul Stanley (Kiss), Billy Gibbons (ZZTop), Steve Vai!
And now in 2012, Alex is ready for his fourth solo album, with the participation of some of the greatest guitar players on the planet !"



- An album for all who love Melodic Classic Hard Rock at its best!!!