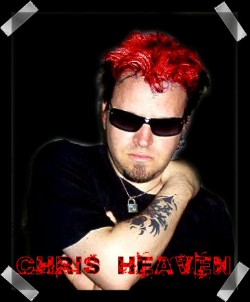 CHRIS HEAVEN
genere: Heavy Metal /Hard Rock
BIOGRAFIA :
Cantante torinese in attività dalla metà degli anni '80,
ha cantato con numerose bands tra le quali Redlynx, State Of Grace, Exaurith, Cry Baby.
Numerose le sue collaborazioni con artisti nazionali e internazionali quali Michael Von Knorring (Malmsteen), Tracy G (Dio), Mats Olausson (Malmsteen), Michael Gapys,
Noriyuki Yoshida, Max Arminchiardi, Event Horizon, Demon Angel's, Fireline.
Ha cantato su molti cd-tributo come "Warmth in the wilderness II" (Lion Music/Frontiers, tributo a Jason Becker, presenti Steve Vai, Marty Friedman ecc), "Blackmore's Castle II" (Lion Music/Frontiers, tributo a Blackmore), "Served Acoustic" (Sharkbite Rec, tributo agli Warrant), "Change of Seasons" (UdU Rec, tributo ufficiale a George Michael), "The Beast Inside" (melodicrock.com, compilation internazionale), "Battle Of Immortal Beast" (tributo giapponese a Malmsteen).
Sta lavorando al suo secondo disco come solista.
---
DISCOGRAFIA :
Out Of The Darnkess
(2002 Vitaminic)

On My Skin
(??? 2005)

Guest & Others

Eridania - Na Storia da Contè
(1993 Toast Rec.)

AAVV - Made For Japan
(1997 Bax Rec.)

AAVV - Sliced Orange
(1996 Dumbo Rec.)

Soul Seller - Underground Freedom
(1999)

AAVV - What must we do...
(2002 UdU Rec.)

AAVV - Angel Never Cry
(Malmsteen Japan FC - 2002)

C.F.Demon Angel's - Demon Angels
(1998)

C.F.Demon Angel's Spirit Resurrection
(2001)

C.F.Demon Angel's - Speed Rising
(2003)

Max Arminchiardi - Synaba
(2002)

Fratelli Sberlicchio - Mucche Pazze
(2002)

Event Horizon - Year:Zero
(2003)

C.F. Demon Angels - Resurrection Live
(2001)

Uscita di Sicurezza -
...e allora non smetto
(2003)

C.F. Demon Angels - Firelove
(2003)

AAVV - Battle of Immortal Beast
(Malmsteen Japan FC 2003)

AAVV - Warmth In The Wilderness Vol.2
(Lion Music/Frontiers 2003)

AAVV - Change Of Seasons
(UDU - 2004)

Max Arminchiardi - Tribute
(2003)

AAVV - The Beast Inside
(Melodicrock.com - 2004)

Fireline - Chasten by the light
(2005)

AAVV - Serve Acoustic
(Sharkbite Rec. 2004)

Purplesnake - Split before beginning
(2004)

AAVV - The Glam thatstole Christmas
(Perris Rec. 2004)

AAVV - Blackmore's Castle Vol.2
(Lion Music/Frontiers 2005)

AAVV - Senza Etichetta 2005
Italian Music Contest Compilation
(2005 TBA)
---
LINE-UP :
Chris Heaven, voce

(tra gli altri)
Michael Gapys, chitarra
Tracy G, chitarra
Michael Von Knorring, batteria
Noriyuki Yoshida, chitarra
Gonzo, basso
---
| | | |
| --- | --- | --- |
| | | Ascolta un brano ."Dreaming"Mp3 |
| | | |
| | | Sono in vendita Demotape e/o CD. |
| | | |
| | | La band è disponibile per concerti dal vivo. |